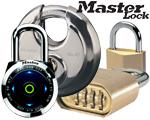 Master Lock has been recognised around the world as an authentic and enduring brand name for padlocks and security products since its foundation in 1921. As the world's largest manufacturer of padlocks, the company continues the founder's passion for innovation and quality. Continuously, Master Lock has set new standards in lock design, application and performance.

We offer the range of Master Lock products for commercial customers. These items are exclusively for commercial customers. You can register as a commercial customer by opening a customer account with your Value Added Tax Identification Number (VAT ID). This will give you access to the entire range of products.
Click here to open a customer account (if you don't have one yet).

The padlock sets consist of multiple locks. The indicated number of keys applies to each individual lock.
If you can't find something, feel free to contact us.