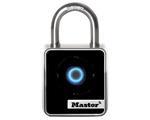 The electronic movement interface offers quick and easy access and many personalised codes; this is keyless convenience.
Shackles with a diameter of between 7 and 9 mm are made of boron carbide for maximum resistance to cutting and sawing.
The Bluetooth padlocks offer quick keyless convenience via the phone/app interface. Easy to use and better control as well as the ability to share credentials with others. The locking mechanism has anti-shim technology which provides maximum security.